A selection of items with RPSI or Museum logos.
Souvenir Guidebook
Whitehead Railway Museum £5.00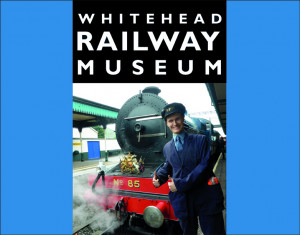 Whitehead Railway Museum is the home of the Railway Preservation Society of Ireland (RPSI). The Society has around 1,000 members and it depends on its volunteers to keep the wheels turning.
Whitehead Excursion station was opened in 1907 as a an overflow station to cope with the influx of day trippers from Belfast. It was taken over by the RPSI in the 1960s and many buildings have been added since. These now house the Society's extensive collection if historic railway vehicles and memorabilia. Some of the locomotives and coaches are used by the RPSI on excursion trains all over the Irish railway system.
This guidebook is intended to complement a visit to the museum. It contains details of opening times and of how to obtain up to date information on Society activities.
Paperback, 90 colour and 38 b&w pictures, one map, 68 pages.
"It must surely be the best guide to any preserved railway centre of any sort, anywhere. It's just wonderful. You have included such a fabulous selection of pictures past and present, encompassing so many people as well as every aspect of the trains, etc. Hope it sells a million, it certainly deserves to." - Michael H.C. Baker, Railway Author
Add to basket (£5.00)
Danny and the Steam Train
Written and illustrated by Bob Harper £6.00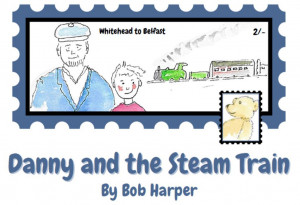 Danny and his Grandad go on an adventure to learn about the trains at Whitehead Railway Museum ...
Our exclusive new children's book, written and illustrated by local Whitehead artist, Bob Harper.
Add to basket (£6.00)