Please take a look at our selection of calendars and cards.
To allow for correct postage, please select Euro symbol below if ordering from outside the United Kingdom.
RPSI 2022 Calendar
The Society's calendar for 2022. £10.00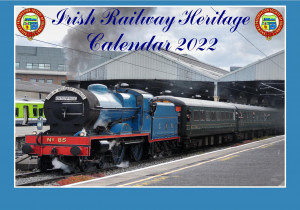 The RPSI 2022 calendar features scenes from a typical year of Society activities such as Santa with elves and No.85 "Merlin" in Dublin, and Steam Train Rides at Whitehead with the Red Arrows flying overhead. GNR(I) No.171 "Slieve Gullion" is seen on the now closed Sligo Quay branch while DSER No.461, coupled to the Presidential coach, is seen passing Howth Junction.
A notable picture shows long scrapped GNR(I) No.207, 'Boyne' on humble ballast train duties. Diesels are not forgotten and there is a shot of GM 073 in black and tan livery hauling a rake of Cravens coaches with snow on the ground. The calendar is rounded off with collections of photos of scenes at Whitehead Railway Museum and on Dublin-based mainline trains.
Add to basket (£10.00)