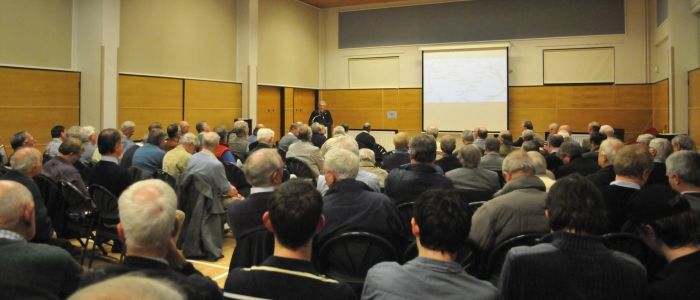 The RPSI has been running monthly meetings in Belfast, during the winter months, almost continually since February 1974.
Guest speakers from all corners of Ireland and beyond have enthralled our audiences with tales of all things railway - broad and narrow gauge - mostly steam, with many pictures from behind the scenes. Hundreds of slide shows and miles of movie film and video have revealed every corner of the island's railway network to consistently large audiences, reputedly the largest in these islands.
All Welcome!
Our meetings will continue to be online-only for now.
Next Meeting Details
| | | |
| --- | --- | --- |
| Date | | October 2023 |
| Time | | 7:30pm |
| Meeting Link: | | TBA |
A valid email address will be required to access the meeting. You are advised to register as soon as the meeting link is available. Please allow about 5 minutes to complete this task.
The meetings are open to non-members and admission is free, although donations towards running costs are always gratefully received. Donors giving £5/€6 or more will have their names put into a hat for a ballot. The prize will be up to £20/€22 worth of items from the online shop. The prize winner will be contacted by email.
Date
Meeting Details
12-Oct-2022
Rails Through Pomeroy
Take a trip back to the days when Pomeroy was a busy railway town on the Derry Road with direct links to Belfast and Londonderry and easy access to places like Dublin and Bundoran. In this fully-illustrated talk, with many maps and several 'new' photographs, Charles Friel will recreate the railway line between Donaghmore and Carrickmore with its steep gradients, heavy goods traffic and busy excursion trains, its accidents and other incidents. The talk will include the period after closure on 15th February 1965 when Pomeroy was the scene of one notable derailment before nature quietly reclaimed the line.
09-Nov-2022
Enterprise Express
John Friel recalls the life and times of Ireland's longest-lived named train with a huge selection of pictures, many of them being shared in public for the first time. Beginning with the earliest non-stop runs between Dublin and Belfast, John will trace how the Enterprise Express came to be launched in August 1947 and then grew from one Belfast-based train to two non-stop trains each way daily before extending its reach all the way to Cork for a while. See how the steam motive power and train compositions varied over time before diesel-worked trains took over - from four-car AEC sets to eight-piece BUTs, from 70 class railcars to NIR GMs and from CIE B121s through ARs and others to today's 201/DeDetreich push-pull operations. PLUS the Society's own Steam Enterprise trains, including our very successful 1987 recreation of the first Compound-hauled Enterprise Express.
14-Dec-2022
The First Great Train Robbery
Based on the theft of gold, en route to the Crimean War, from a moving train in 1855, the film was shot in Ireland in 1978 and featured our saturated J15 class 0-6-0 No.184 with Sean Connery, Donald Sutherland and Lesley Anne Down in supporting roles. The train's carriages were specially built at Ardmore Studios on the frames of redundant CIÉ Luggage Vans. See how No.184 came to be chosen for the film and then restored in Mullingar by our volunteers who later supported the locomotive throughout the months of filming. The talk will take us behind the scenes and through the real action between Mullingar and Athlone and will include some of the moves between locations - Dublin Heuston and the roof of the Broadstone became London Bridge, Moate played Ashford and Cork Ceannt doubled as Folkestone. And see how we managed to run a railtour programme at the same time! Be ready for when the film next appears on your television!
11-Jan-2023
The Greenisland Loop Line At 90
The construction of the loop line between Bleach Green and Monkstown in the 1930s allowed the introduction of the fastest trains in Ireland. The talk will outline the huge changes needed to build the 2¼ miles of new line from just north of Whiteabbey to Monkstown, and the associated work to regrade the main line to just north of Mossley station, as well as the changes to what became the Back Line from Greenisland to Monkstown. The work required huge earthworks and many reinforced concrete bridges and viaducts, including Ireland's first (and only) burrowing junction at Bleach Green Junction. As well as maps and diagrams, the fully illustrated talk will include several pictures of the building work and the official opening which have not been seen in public before.
08-Feb-2023
BCDR To Great Victoria Street
With the aid of original UTA signalling drawings, reports and minutes, Ian Sinclair uncovers the UTA/NI Tribunal proposals in the early 1950s for the Belfast Central Railway and a new terminus to replace Queen's Quay, and considers how subsequent developments over the past 70 years saw many aspects of those proposals become reality.
08-Mar-2023
Around Ireland With Mac
Michael McMahon explores and shares some negatives from the late R.M. Arnold - better known as Mac - and brings us a flavour of Mac's wide-ranging travels across Ireland in the days of steam. Many have never been published before and some are a bit of a puzzle. Maybe you will be able to help?
The Meeting
Log-on happens from about 7:15pm. All talks start sharp at 7:30pm and are fully illustrated.
Apart from any domestics, each meeting includes a short 'Newsreel'. This gives a bite-sized look at some recent event or intriguing piece of engineering in which the RPSI has been involved. It is the natural appetiser to getting involved yourself and becoming one of the volunteers who do so much behind the scenes. There may also be a brief update on the wider Society from our General Manager and details too of what's new in our online RPSI Shop. But maybe not always in that order!
After a short interval (for your own comfort and refreshment), we aim to finish around 10:00pm.