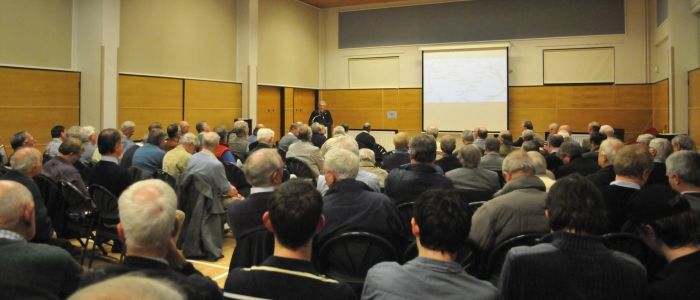 The RPSI has been running monthly meetings in Belfast, during the winter months, continually since February 1974.
Guest speakers from all corners of Ireland and beyond have enthralled our audiences with tales of all things railway - broad and narrow gauge - mostly steam, with many pictures from behind the scenes. Hundreds of slide shows and miles of movie film and video have revealed every corner of the island's railway network to consistently large audiences, reputedly the largest in these islands.
The next season will commence in October.
Next Meeting Details
| | | |
| --- | --- | --- |
| Date | | |
| Time | | |
| Meeting Link: | | |
| Meeting ID: | | |
| Passcode: | | |

View/Download Zoom How-To Guide
The meetings are open to non-members and admission is free, although donations towards running costs are always gratefully received. Donors giving £5/€6 or more will have their names put into a hat in for a ballot with one prize winner. The prize will be up to £20/€22 worth of items from the online shop. The prize winner will be contacted by email.
Date
Meeting Details
October 2020
Cancelled
November 2020
Cancelled
9th December 2020
Derry Central Railway


Charles Friel

explores this part of the NCC network which ran from Magherafelt to Macfin Junction (just south of Coleraine) and was, at times, a useful relief to the busy main line and even had its own TPO! Although closed to passengers in August 1950, the line from Magherafelt as far as Kilrea remained open for goods traffic until October 1959 and saw some passenger specials too. One of the principal traffics on the line was to and from Clarke's Linen Mill at Upperlands (between Maghera and Kilrea) which had its own branch line and an internal horse-worked tramway.
13th January 2021
NCC Mogul Project


Peter Scott

presents the history of the NCC Mogul class, followed by an update on progress of construction on locomotive No.105.
10th February 2021
The Spoil Trains
The UTA/NIR Spoil Trains were the last great challenge for Irish steam. Over 3½ years, WT Class 2-6-4T locomotives operated 7,600 trains carrying over 4m tons of spoil from Magheramorne to Greencastle. Lifetime recorder of the railway scene,

Joe Cassells

, keenly observed the operation and, using previously unavailable information, he has produced the definitive description of it - its conception, its planning, and day-to-day activity. There is a special focus on the locomotives and enginemen.
10th March 2021
Locomotives Of The GS&WR


Michael McMahon

speaks about his recently-published book which he has co-authored with Jeremy Clements and Alan O'Rourke.

The Meeting

Meetings start sharp at 7:30pm and finish by 10:00pm.

Each night includes a 5 minute 'Newsreel'. This gives a bite-sized look at some recent event or intriguing piece of engineering in which the RPSI has been involved and is usually a mixture of video and still photographs. It is the natural appetiser to getting involved yourself, perhaps by meeting some of the volunteers who do so much behind the scenes.

It is followed by a talk/show illustrated on a large screen.

There will be an interval for tea/coffee, with time to visit the huge range of items for sale, giving you a chance to browse through the RPSI shop, including the large stock of new and second-hand Irish railway books, videos and other railway paperwork as well as magazines - far too many to list here.

The meetings are open to non-members and admission is free, although donations towards running costs are always gratefully received (there will be a collection on leaving).

The Venue

Main Hall, Orangefield Presbyterian Church, Castlereagh Road, Belfast, BT5 6BH

The hall can be reached using Metro bus services 5A and 31, and Ulsterbus service 512 - the Montgomery Road stop coming into Belfast, and Orby Street on the way out.

The meetings are fully accessible for wheelchair users.