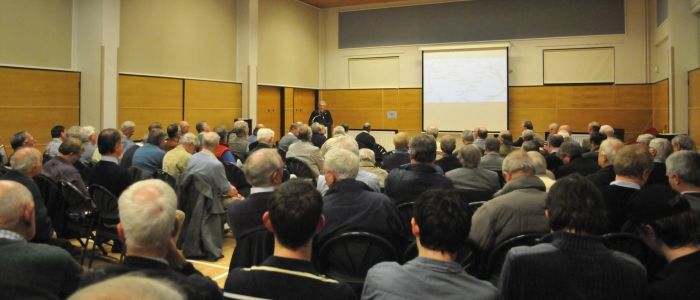 The RPSI has been running monthly meetings in Belfast, during the winter months, continually since February 1974.

Guest speakers from all corners of Ireland and beyond have enthralled our audiences with tales of all things railway - broad and narrow gauge - mostly steam with many pictures from behind the scenes. Hundreds of slide shows and miles of movie film and video have revealed every corner of the island's railway network to consistently large audiences, reputedly the largest in these islands.
Please download and display/advertise the meetings programme.
Date
Meeting Details
11th October 2017
Sixty Years Gone
Charles Friel will bring you on a pictorial journey along the Great Northern lines which lost all of their services on 30th September 1957. Travel again between Portadown and Tynan, and from Clones through Enniskillen to Omagh as well as over the Bundoran branch and along the always-independent Sligo Leitrim and Northern Counties Railway. A night to stir the memories.
8th November 2017
Lough Swilly Revisited
Steve Flanders recreates the heydays of the long-lost Londonderry & Lough Swilly and Londonderry & Burtonport Extension Railways in north Donegal and introduces the new, revised and updated edition of E.M. Patterson's classic book which he and Joe Begley have produced for Colourpoint Books. Includes many previously unseen pictures and diagrams which were not available for the original book and some very recent discoveries.
13th December 2017
A Railway Miscellany
Shaun Martin presents previously unpublished pictures of the NCC area from the camera of master cameraman Richard Whitford.
Evan Connolly shares pictures and memories of his travels around many parts of the Irish railway system from the 1970s to today.
John Richardson recalls the highs - and some lows - of working for the Northern Bank in railway towns across Ulster between 1959 and 1964.
10th January 2018
Portrush Station
John Moore uses some of the earliest views to delve into the history of the station and its Harbour Branch and also brings the story up to date.
More From The BBC Archives
Ian Sinclair with more extracts from the collection of local BBC radio and television programmes, focussing on both regular slots and one-off features which explored the local railway scene.
14th February 2018
Random Recollections Of Travel Through Ireland 65 years Ago
Michael Davies, Lancashire-born and with deep roots in north Wales, planned his first visit to Ireland while a schoolboy in 1949. But finances were not available until June 1951 when he travelled 1,635 miles, almost entirely by steam train, to such remote outposts as Tooban Junction, Killybegs, Kilrush, Baltimore and Dingle - all for a total cost of £15! His love affair with Ireland was established and this, his 132nd visit, will recreate the first.
14th March 2018
Classic Irish Steam
Ciarán Cooney, photographic archivist for the IRRS, with some of the best work by Bob Clements, Denis Morris and J. Macartney Robbins whose pictures have been only seldom aired. The scenes cover all of Ireland between 1938 and 1958 on the broad gauge and mostly by steam. Each picture has been carefully digitised, restored and enhanced by Ciarán to pristine condition. Classic stuff indeed and a great way to end the season.
The Meeting
Meetings start sharp at 7:30pm and finish at 10:00pm.
Each night includes a 5 minute 'Newsreel'. This gives a bite-sized look at some recent event or intriguing piece of engineering in which the RPSI has been involved and is usually a mixture of video and still photographs. It is the natural appetiser to getting involved yourself.
It is followed by a talk/show illustrated on a large screen.
There will be an interval for tea/coffee, with time to visit the huge display of items for sale, giving you a chance to browse through the RPSI shop, including the large stock of new and second-hand Irish railway books, videos and other railway paperwork as well as magazines - far too many to list here.

The meetings are open to non-members and admission is FREE, although donations towards running costs are always gratefully received (there will be a collection on leaving).
The Venue
Parke Hall, Orangefield Presbyterian Church, Castlereagh Road, Belfast, BT5 6BH
The hall can be reached using Metro bus services 5A and 31, and Ulsterbus service 512 - the Montgomery Road stop coming into Belfast, and Orby Street on the way out.
The meetings are fully accessible for wheelchair users.